RENN: new, ambitious, formative
There are a great many stakeholders in Germany who are proponents of sustainable development. The topics they address are as diverse as the stakeholders themselves. What they all have in common, however, is the leitmotif of changing how we do business and how we live in order that the generations to come can likewise enjoy a world with an intact environment, society and economy.

Many projects and ideas have been developed which are effective both on a large and a small scale, but in many cases their spread is very slow. At the federal government's request, the German Council for Sustainable Development (RNE) proposed four Regional Hubs for Sustainability Strategies (RENN) to promote the spread and the networking of the projects and the stakeholders: RENN.north, RENN.central, RENN.south and RENN.west. The RENN Coordination Centre is based at the RNE in Berlin.
The RENN hubs support stakeholders from civil society, politics and administration who wish to contribute to sustainable development in Germany. To do so, they strengthen and network the stakeholders' initiatives and skills locally, regionally and nationally.
RENN's self-image
RENN is a nationwide sustainability network which:
Is embedded comprehensively at the regional level by 20 organisations operating across all of the Länder
Is coordinated nationally
Has links to sustainable development policy at both the national and Länder level
RENN links both established and "new" sustainability stakeholders across an array of topics and at the various political levels.
RENN pools the target groups' ideas, experiences and discourse results and processes these for use in sustainability activities and strategies at various levels.
RENN generates and shares knowledge about sustainability topics and strategies.
The work of the RENN hubs is founded on the goals of the 2030 Agenda with its 17 Sustainable Development Goals (SDGs), towards which the German Sustainable Development Strategy is also oriented.
The RENN portfolio
Events of various formats which are related to the 2030 Agenda, the 17 SDGs and sustainability activities and strategies at the federal, state (Länder) and municipal level – independently or in cooperation with other stakeholders.
High-profile information and education work as well as happenings and/or campaigns
Boosting and making sustainability projects, initiatives and their ideas more visible
Initiator and partner of topical cooperations
Organisation and realisation of Project Sustainability, a Germany-wide competition for a sustainable society
Advice, training, coaching
Development of information, education and training materials
Development of and work on public reports
The actual RENN services vary from hub to hub, based on the regional situation and requirements.
Organisation and structure
In 2016, the German federal government commissioned the RNE with selecting four RENN hubs, so the RNE consulted the Länder for proposals. This was followed by an official application process. Existing, primarily non-governmental organisations that were working in the area of sustainability were consequently selected to handle the task of regional networking. The aim here was to avoid creating structural redundancies. In total, the RENN network comprises 20 partners in the 16 Länder. Each individual RENN hub brings together stakeholders in the corresponding partner Länder, for them to jointly address and work through topics and realise ideas. A coordination centre for the RENN network was established within the RNE. It sees itself as a "cross-regional node" that promotes the project's nationwide effect and, at the request of the funding agency, professionally evaluates the status quo of the four RENN hubs' activities.
Hub coordinator: Schutzgemeinschaft Deutscher Wald, Lv. Hamburg (SDW) e.V.
Partner:
---
Hub coordinator: Zukunftsfähiges Thüringen e.V.
Partner:
---
Hub coordinator: Nachhaltigkeitsbüro der Landesanstalt für Umwelt Baden-Württemberg
Partner:
---
Hub coordinator: Landesarbeitsgemeinschaft Agenda 21 NRW (LAG 21) e.V.
Partner:
RENN.tage Berlin 2019
The "Berlin RENN.days 2019" were held on 3 and 4 December 2019. This was the third time that the German Council for Sustainable Development (RNE) and the Regional Hubs for Sustainability Strategies (RENN) hosted an annual conference featuring interesting guests, expert input, political debate and all kinds of networking opportunities. This year's RENN.days revolved around the topic of cooperation.
RENN.tage Berlin 2018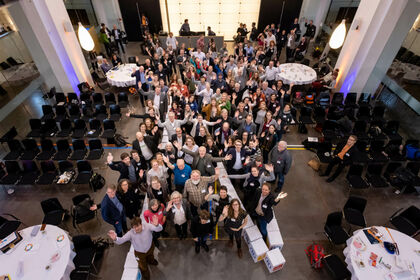 What concrete form does sustainable development take locally?
This was the topic of discussion for some 200 sustainability actors from all over Germany at the "Berlin RENN.days 2018", which were held on 13 and 14 November 2018. The meeting was marked by inspiring examples, both sobering and galvanising experiences as well as strategies for even broader acceptance of societal change.
RENN.tage Berlin 2017
The first Berlin RENN.days were held on 17 and 18 November 2017. At the invitation of the Regional Hubs for Sustainability Strategies (RENN), some 200 sustainability actors assembled to exchange experiences, learn from one another and jointly develop ideas for realising sustainability at local level.
Documentation, picture gallery und film of the RENN.tage Berlin 2017